October 15, 2017—Kenny Crist, Editor Emeritus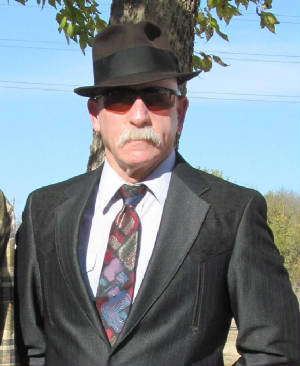 Hi!
Welcome to Issue #81 of Black Petals. A little history lesson, for those of you who may not be that familiar with the magazine.
Black Petals was the brainchild of a very nice lady who wrote under the pen name of D. M. Yorton, in Manitowoc, Wisconsin. I myself have never seen the first three issues of the mag. I submitted a story, The Family Business, and it was accepted and published in Volume I, #4, in June of 1998. I became a regular contributor for some time and also designed many of the early covers, using some fairly primitive graphics software on an old Packard Bell that was state-of-the-art in those days.
Black Petals was one of five magazines D. M. Yorton published under the name "Basement Insanities Group" (BIG). She actually cranked these things out on an old copier, yes, in her basement, and sold them, managing to survive a couple of winters with no other source of income.
She offered the magazine to me in 1999, and my first issue was Volume III, #1, which came out in October.
I ran the mag at a loss for a number of years, printing and mailing actually costing more than subscriptions brought in, and I considered abandoning it many times. My own stubborn nature got in the way, though, and we did turn out some pretty flashy mags for a while there.
What's the point of all this? Well, the other day I was grubbing around in my basement and I found a box containing the last 34 copies of some old issues in pristine condition. If you'd like to have one (no guarantee what issue it might be,) send me five bucks and I'll ship ya one in the mail. I'd like to get rid of them and the fiver will cover the postage.
It's a piece of magazine history you can call your own and if you've been published here, you really should have one.
As magazines go, especially "small-press" and E-Mags, Black Petals is an old-timer, having been published for ten years on paper and another ten on the web. Issue #40 was the final print issue, and sadly, there are none of those left, but I have one copy of #32 and a number of #37 and #39. If you're interested, let us hear from you.
The address is: Fossil Publications
11627 Taft
Wichita, KS 67209-1036