Issue #64, October, 2017
Art by Mike Kerins © 2017
WARNING! WARNING! WARNING!
CONTAINS EXPLICIT MATERIAL!
This website contains material which should not be opened or viewed by persons under the age of 18. Certain stories and poems on this site must be considered "adult" material. This is NOT a porn site, however, some of the material contained herein could be offensive to some people.
At Yellow Mama, we don't spare the horses, so just be advised, if you are easily offended or under 18 years of age, PLEASE DON'T GO THERE!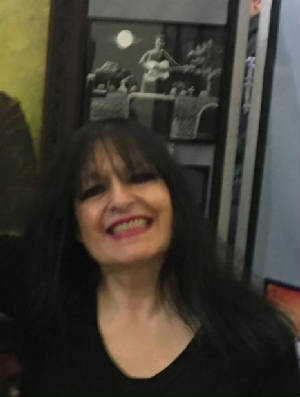 "Welcome to YELLOW MAMA, a crime fiction 'zine as sizzling as the chair it's named after."
Note: At Yellow Mama, we deal in FICTION, just for entertainment. We never condone senseless mass murders and our hearts go out to the victims of all mass shootings, terrorist attacks and other acts of senseless violence. We are holding them in our thoughts and prayers.
EDITORIAL STAFF:

Cindy Rosmus-Editor/Art Director

Kenneth James Crist-

Editor-at-Large/Webmaster

Ann Marie Rhiel-Assistant Art Director




CONTRIBUTING WRITERS
(In order of appearance)

Will Bernardera, Jr.

T.N. Allan

Preston Lang

J. Brooke

Michael S. Stewart

Kenneth James Crist

J. M. Taylor

Michael Bauman

Frank Quinn

Robb T. White

Roy Dorman

Edward Francisco

Erin J. Jones

Cindy Rosmus

Darin Liskey

Hillary Lyon

Daniel Clausen

James Coffey

Bill Baber




CONTRIBUTING POETS:

Daniel G. Snethen

Luis Cuauhtemoc Berriozabal

Michael Marrotti

John Doyle

David Spicer

Dr. Mel Waldman

Ian Mullins

Meg Baird

John Grey

Kenneth P. Gurney




CONTRIBUTING ARTISTS:

Cover: Mike Kerins

Sean O'Keefe

Ann Marie Rhiel

Cindy Rosmus

L. A. Barlow

Steve Cartwright

Kevin Duncan

Noelle Richardson

Bryan Cicalese

John Lunar Richey

Hillary Lyon

W. Jack Savage

John Thompson

Patty Mulligan

Bill Zbylut

Daniel Valentin




Published by Fossil Publications, Wichita, Kansas.

All fiction, poems and artwork are copyrighted and owned by the contributors. No unauthorized use or reproduction without the consent of the owners/artists. We know some lawyers, too!