Summer, 2022-Chris Friend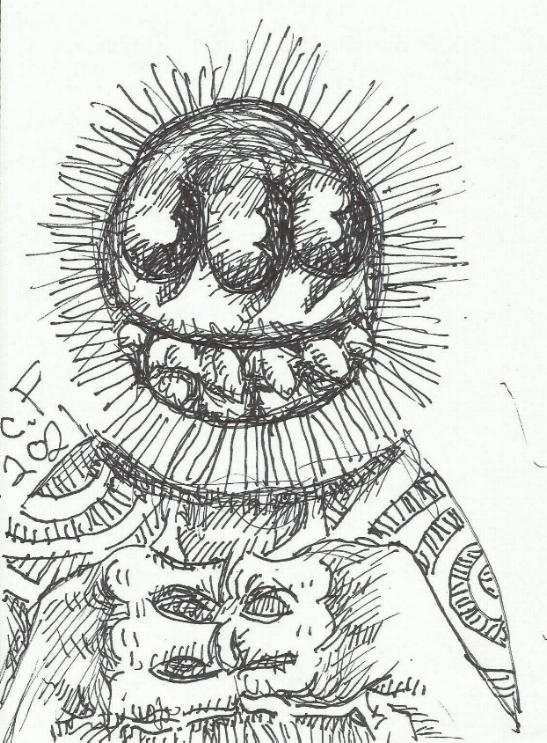 Art by Chris Friend © 2021
Greetings from Mars!
As a follow up article to my article on the Celtic deity Grannus who was a spirit who ruled healing hot springs, I decided to do one on a similar Celtic deity. The goddess Sulis ruled over the healing hot springs of Bath, England. Both the hot spring and town was formerly known as Aque Sulis or 'the Waters of Sulis'. Her name is likely derived from the Celtic word for sun. The hot springs were so warm as to be heated by the sun. Since the waters of Sulis are warm and therapeutic she is considered a goddess of healing as well as justice. She can be vengeful too, being called upon by her disciples to avenge wrong doings, such as stealing. Sulis is an ancient goddess going back before the Romans. Her sacred animal is the pig which is credited for discovering the hot springs. This was due to the fact that pigs loved to wallow in the warm mud of the springs. The Celts were nature-based and erected the first shrine to Sulis in rustic settings.
The Romans were well known lovers of hot springs and quickly adopted Sulis and her hot springs with passion. The Romans soon associated Sulis with their own goddess Minerva. By 65 CE the Romans replaced Sulis with a great shrine dedicated to Minerva and built a massive temple with the springs being turned into a large pool. Sulis' new shrine became a site of pilgrimages and a tourist destination. Like our modern practice of tossing coins into a wishing well, the shrine of Sulis held a similar practice. Over sixteen thousand coins have been found at the site of the sacred springs.
Since Sulis was also a deity of justice she was also called on for curses. Small metal tablets had a petition written on them and tossed into the deep depths of the spring from which they could not be retrieved, keeping the curse from being broken. Sulis provided justice for those who felt they had been wronged. Her shrine was also a place where amulets and charms were made and blessed. Molds for making her amulets have been found at her shrine. Her amulets were often in the form of body parts such as breasts to help with body functions such as breast feeding. Her bath is said to be full of coins and sometimes dice.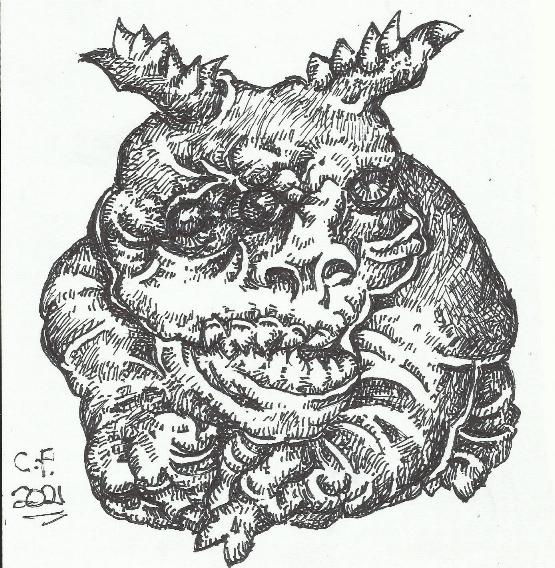 Art by Chris Friend © 2021
Chris Friend, mars_art_13@yahoo.com, of Parkersberg, W.Va , writes and illustrates our "MARS News" column. He did a cover for Black Petals back in 2000 for the fall issue, and has been around ever since. BP prints his column in the issue quarterly. Chris has a gallery at
http://chris.michaelherring.net/ and was featured artist in Kurt Newton's Ultimate PerVersities (Naked Snake) [Jan. 2011].