Home
Adair, Jay
Adhikari, Sudeep
Ahern, Edward
Aldrich, Janet M.
Allan, T. N.
Allen, M. G.
Ammonds, Phillip J.
Anderson, Fred
Anderson, Peter
Andreopoulos, Elliott
Arab, Bint
Armstrong, Dini
Augustyn, P. K.
Aymar, E. A.
Babbs, James
Baber, Bill
Bagwell, Dennis
Bailey, Ashley
Bailey, Thomas
Baird, Meg
Bakala, Brendan
Baker, Nathan
Balaz, Joe
BAM
Barber, Shannon
Barker, Tom
Barlow, Tom
Bates, Jack
Bayly, Karen
Baugh, Darlene
Bauman, Michael
Baumgartner, Jessica Marie
Beale, Jonathan
Beck, George
Beckman, Paul
Benet, Esme
Bennett, Brett
Bennett, Charlie
Bennett, D. V.
Benton, Ralph
Berg, Carly
Berman, Daniel
Bernardara, Will Jr.
Berriozabal, Luis
Beveridge, Robert
Bickerstaff, Russ
Bigney, Tyler
Blackwell, C. W.
Bladon, Henry
Blake, Steven
Blakey, James
Bohem, Charlie Keys and Les
Bonner, Kim
Booth, Brenton
Boski, David
Bougger, Jason
Boyd, A. V.
Boyd, Morgan
Boyle, James
Bracey, DG
Brewka-Clark, Nancy
Britt, Alan
Broccoli, Jimmy
Brooke, j
Brown, R. Thomas
Brown, Sam
Bruce, K. Marvin
Bryson, Kathleen
Burke, Wayne F.
Burnwell, Otto
Burton, Michael
Bushtalov, Denis
Butcher, Jonathan
Butkowski, Jason
Butler, Terence
Cameron, W. B.
Campbell, J. J.
Campbell, Jack Jr.
Cano, Valentina
Cardinale, Samuel
Cardoza, Dan A.
Carlton, Bob
Carr, Jennifer
Cartwright, Steve
Carver, Marc
Castle, Chris
Catlin, Alan
Centorbi, David
Chesler, Adam
Christensen, Jan
Clausen, Daniel
Clevenger, Victor
Clifton, Gary
Cmileski, Sue
Cody, Bethany
Coey, Jack
Coffey, James
Colasuonno, Alfonso
Condora, Maddisyn
Conley, Jen
Connor, Tod
Cooper, Malcolm Graham
Copes, Matthew
Coral, Jay
Corrigan, Mickey J.
Cosby, S. A.
Costello, Bruce
Cotton, Mark
Coverley, Harris
Crandall, Rob
Criscuolo, Carla
Crist, Kenneth
Cross, Thomas X.
Cumming, Scott
D., Jack
Dallett, Cassandra
Danoski, Joseph V.
Daly, Sean
Davies, J. C.
Davis, Christopher
Davis, Michael D.
Day, Holly
de Bruler, Connor
Degani, Gay
De France, Steve
De La Garza, Lela Marie
Deming, Ruth Z.
Demmer, Calvin
De Neve, M. A.
Dennehy, John W.
DeVeau, Spencer
Di Chellis, Peter
Dillon, John J.
DiLorenzo, Ciro
Dilworth, Marcy
Dioguardi, Michael Anthony
Dionne, Ron
Dobson, Melissa
Domenichini, John
Dominelli, Rob
Doran, Phil
Doreski, William
Dority, Michael
Dorman, Roy
Doherty, Rachel
Dosser, Jeff
Doyle, Jacqueline
Doyle, John
Draime, Doug
Drake, Lena Judith
Dromey, John H.
Dubal, Paul Michael
Duke, Jason
Duncan, Gary
Dunham, T. Fox
Duschesneau, Pauline
Dunn, Robin Wyatt
Duxbury, Karen
Duy, Michelle
Eade, Kevin
Ebel, Pamela
Elliott, Garnett
Ellman, Neil
England, Kristina
Erianne, John
Espinosa, Maria
Esterholm, Jeff
Fabian, R. Gerry
Fallow, Jeff
Farren, Jim
Fedolfi, Leon
Fenster, Timothy
Ferraro, Diana
Filas, Cameron
Fillion, Tom
Fishbane, Craig
Fisher, Miles Ryan
Flanagan, Daniel N.
Flanagan, Ryan Quinn
Flynn, Jay
Fortunato, Chris
Francisco, Edward
Frank, Tim
Fugett, Brian
Funk, Matthew C.
Gann, Alan
Gardner, Cheryl Ann
Garvey, Kevin Z.
Gay, Sharon Frame
Gentile, Angelo
Genz, Brian
Giersbach, Walter
Gladeview, Lawrence
Glass, Donald
Goddard, L. B.
Godwin, Richard
Goff, Christopher
Golds, Stephen J.
Goss, Christopher
Gradowski, Janel
Graham, Sam
Grant, Christopher
Grant, Stewart
Greenberg, K.J. Hannah
Greenberg, Paul
Grey, John
Guirand, Leyla
Gunn, Johnny
Gurney, Kenneth P.
Hagerty, David
Haglund, Tobias
Halleck, Robert
Hamlin, Mason
Hansen, Vinnie
Hanson, Christopher Kenneth
Hanson, Kip
Harrington, Jim
Harris, Bruce
Hart, GJ
Hartman, Michelle
Hartwell, Janet
Haskins, Chad
Hawley, Doug
Haycock, Brian
Hayes, A. J.
Hayes, John
Hayes, Peter W. J.
Heatley, Paul
Heimler, Heidi
Helmsley, Fiona
Hendry, Mark
Heslop, Karen
Heyns, Heather
Hilary, Sarah
Hill, Richard
Hivner, Christopher
Hockey, Matthew J.
Hogan, Andrew J.
Holderfield, Culley
Holton, Dave
Houlahan, Jeff
Howells, Ann
Hoy, J. L.
Huchu, Tendai
Hudson, Rick
Huffman, A. J.
Huguenin, Timothy G.
Huskey, Jason L.
Ippolito, Curtis
Irascible, Dr. I. M.
Jaggers, J. David
James, Christopher
Jarrett, Nigel
Jayne, Serena
Johnson, Beau
Johnson, Moctezuma
Johnson, Zakariah
Jones, D. S.
Jones, Erin J.
Jones, Mark
Kabel, Dana
Kaiser, Alison
Kanach, A.
Kaplan, Barry Jay
Kay, S.
Keaton, David James
Kempka, Hal
Kerins, Mike
Keshigian, Michael
Kevlock, Mark Joseph
King, Michelle Ann
Kirk, D.
Kitcher, William
Knott, Anthony
Koenig, Michael
Kokan, Bob
Kolarik, Andrew J.
Korpon, Nik
Kovacs, Norbert
Kovacs, Sandor
Kowalcyzk, Alec
Krafft, E. K.
Kunz, Dave
Lacks, Lee Todd
Lang, Preston
Larkham, Jack
La Rosa, F. Michael
Leasure, Colt
Leatherwood, Roger
LeDue, Richard
Lees, Arlette
Lees, Lonni
Leins, Tom
Lemieux, Michael
Lemming, Jennifer
Lerner, Steven M
Leverone, Allan
Levine, Phyllis Peterson
Lewis, Cynthia Ruth
Lewis, LuAnn
Licht, Matthew
Lifshin, Lyn
Lilley, James
Liskey, Tom Darin
Lodge, Oliver
Lopez, Aurelio Rico III
Lorca, Aurelia
Lovisi, Gary
Lubaczewski, Paul
Lucas, Gregory E.
Lukas, Anthony
Lynch, Nulty
Lyon, Hillary
Lyons, Matthew
Mac, David
MacArthur, Jodi
Malone, Joe
Mann, Aiki
Manthorne, Julian
Manzolillo, Nicholas
Marcius, Cal
Marrotti, Michael
Mason, Wayne
Mathews, Bobby
Mattila, Matt
Matulich, Joel
McAdams, Liz
McCaffrey, Stanton
McCartney, Chris
McDaris, Catfish
McFarlane, Adam Beau
McGinley, Chris
McGinley, Jerry
McElhiney, Sean
McJunkin, Ambrose
McKim, Marci
McMannus, Jack
McQuiston, Rick
Mellon, Mark
Memi, Samantha
Middleton, Bradford
Miles, Marietta
Miller, Max
Minihan, Jeremiah
Montagna, Mitchel
Monson, Mike
Mooney, Christopher P.
Moran, Jacqueline M.
Morgan, Bill W.
Moss, David Harry
Mullins, Ian
Mulvihill, Michael
Muslim, Kristine Ong
Nardolilli, Ben
Nelson, Trevor
Nessly, Ray
Nester, Steven
Neuda, M. C.
Newell, Ben
Newman, Paul
Nielsen, Ayaz
Nobody, Ed
Nore, Abe
Numann, Randy
Ogurek, Douglas J.
O'Keefe, Sean
Orrico, Connor
Ortiz, Sergio
Pagel, Briane
Park, Jon
Parks, Garr
Parr, Rodger
Parrish, Rhonda
Partin-Nielsen, Judith
Peralez, R.
Perez, Juan M.
Perez, Robert Aguon
Peterson, Ross
Petroziello, Brian
Petska, Darrell
Pettie, Jack
Petyo, Robert
Phillips, Matt
Picher, Gabrielle
Pierce, Curtis
Pierce, Rob
Pietrzykowski, Marc
Plath, Rob
Pointer, David
Post, John
Powell, David
Power, Jed
Powers, M. P.
Praseth, Ram
Prazych, Richard
Priest, Ryan
Prusky, Steve
Pruitt, Eryk
Purfield, M. E.
Purkis, Gordon
Quinlan, Joseph R.
Quinn, Frank
Rabas, Kevin
Ragan, Robert
Ram, Sri
Rapth, Sam
Ravindra, Rudy
Reich, Betty
Renney, Mark
reutter, g emil
Rhatigan, Chris
Rhiel, Ann Marie
Ribshman, Kevin
Ricchiuti, Andrew
Richardson, Travis
Richey, John Lunar
Ridgeway, Kevin
Rihlmann, Brian
Ritchie, Bob
Ritchie, Salvadore
Robinson, John D.
Robinson, Kent
Rodgers, K. M.
Roger, Frank
Rose, Mandi
Rose, Mick
Rosenberger, Brian
Rosenblum, Mark
Rosmus, Cindy
Rowland, C. A.
Ruhlman, Walter
Rutherford, Scotch
Sahms, Diane
Saier, Monique
Salinas, Alex
Sanders, Isabelle
Sanders, Sebnem
Santo, Heather
Savage, Jack
Sayles, Betty J.
Schauber, Karen
Schneeweiss, Jonathan
Schraeder, E. F.
Schumejda, Rebecca
See, Tom
Sethi, Sanjeev
Sexton, Rex
Seymour, J. E.
Shaikh, Aftab Yusuf
Sheagren, Gerald E.
Shepherd, Robert
Shirey, D. L.
Shore, Donald D.
Short, John
Sim, Anton
Simmler, T. Maxim
Simpson, Henry
Sinisi, J. J.
Sixsmith, JD
Slagle, Cutter
Slaviero, Susan
Sloan, Frank
Small, Alan Edward
Smith, Brian J.
Smith, Ben
Smith, C.R.J.
Smith, Copper
Smith, Greg
Smith, Elena E.
Smith, Ian C.
Smith, Paul
Smith, Stephanie
Smith, Willie
Smuts, Carolyn
Snethen, Daniel G.
Snoody, Elmore
Sojka, Carol
Solender, Michael J.
Sortwell, Pete
Sparling, George
Spicer, David
Squirrell, William
Stanton, Henry G.
Steven, Michael
Stevens, J. B.
Stewart, Michael S.
Stickel, Anne
Stoler, Cathi
Stolec, Trina
Stoll, Don
Stryker, Joseph H.
Stucchio, Chris
Succre, Ray
Sullivan, Thomas
Surkiewicz, Joe
Swanson, Peter
Swartz, Justin A.
Sweet, John
Tarbard, Grant
Tait, Alyson
Taylor, J. M.
Thompson, John L.
Thompson, Phillip
Thrax, Max
Ticktin, Ruth
Tillman, Stephen
Titus, Lori
Tivey, Lauren
Tobin, Tim
Torrence, Ron
Tu, Andy
Turner, Lamont A.
Tustin, John
Ullerich, Eric
Valent, Raymond A.
Valvis, James
Vilhotti, Jerry
Waldman, Dr. Mel
Walker, Dustin
Walsh, Patricia
Walters, Luke
Ward, Emma
Washburn, Joseph
Watt, Max
Weber, R.O.
Weil, Lester L.
White, Judy Friedman
White, Robb
White, Terry
Wickham, Alice
Wilhide, Zach
Williams, K. A.
Wilsky, Jim
Wilson, Robley
Wilson, Tabitha
Woodland, Francis
Woods, Jonathan
Young, Mark
Yuan, Changming
Zackel, Fred
Zafiro, Frank
Zapata, Angel
Zee, Carly
Zeigler, Martin
Zimmerman, Thomas
Butler, Simon Hardy

Bloody Mary
by Dr. Mel Waldman
Mary Jones, the owner of the Bloody Mary liquor store in the South Bronx, stood almost six feet tall and weighed 350 pounds. Women gossiped about the full-figured gal and labeled her grotesque and bestial. But most men claimed she had the prettiest face in the borough.
Mary had a few sidelines—dealing drugs and running an after-hours S & M club. Most folks feared her. But secretly, Bloody Mary loved Tommy the Toy, her midget lover and accountant.
Tonight, the Bloods had ordered a hit on the big mama, initiation rites for a wannabe Blood.
At 11, Tommy dozed off in the back room.
At midnight, Harvey Stone, Joe the Beast, and Jimmy the Speed Freak arrived.
At 12:05, a skinny kid rushed into the store brandishing a .38.
"What the fuck?" Joe the Beast yelled, pulling out a large piece.
The kid blew his head off.
Jimmy screamed. Harvey fainted. He killed them, too.
Mary took out her .45 Magnum and shot the kid exactly when he blasted her.
Later, Tommy woke up, kissed Mary's corpse, took the money, and sauntered off.

THE GIRL FROM PLANET XES
By Dr. Mel Waldman
The pencil-thin girl from Planet XES came into my office six months ago for an emergency session. With protruding bones and dark brown eyes, the ghostly little thing stood about five feet tall.
"Dr. Jacob Weiss referred me to you."
"How is my former colleague?"
The girl stared blankly at me.
"Did he give you a referral letter?"
"No."
"Well, what seems to be the problem?"
"I just returned from Planet XES."
"Planet XES?"
"Yeah. The motherfuckers kidnapped and transported me there. They XESED my brain, body, and soul."
It took her forever to tell me she had discovered a glowing object in a corner of her bedroom. When she gazed at the minuscule thing, she blanked out and woke up on Planet XES.
"After they XESED me, they left me alone in a glittering white sphere. The burning light blinded me. And suddenly I was home again."
I made a couple calls yesterday. Found out Dr. Weiss vanished a year ago.
Now, I sit with the girl. Her freaky eyes glow fiercely. They XES me, take me there, enslave me. Planet XES is real.
"Who are you, MOTHER-XESER?"
I look into her hellfire eyes and burn.
REVOLUTION IN THE MADHOUSE
by Dr. Mel Waldman
In a jabberwocky universe, you can pull it off, switch places or sneak in and hang out, on the inside. Why not?
Indeed, in antediluvian Shrink-land, other explorers conducted secret experiments on psyche wards, tricked the staff, and discovered weird truths, the color of gunmetal, which blew the minds of the uptight status quo bureaucrats.
Now, I'm intoxicated with this thrilling notion of a one-day or one-week revolution in the madhouse, more breathtaking and exciting than a pulchritudinous femme fatale.
My revolution isn't crimson or bloody red; it's the color of creamy white gardenias or pale pink azaleas, or perhaps, yellow or white daffodils; my revolution is not a bomb or volcanic explosion; it's not about deadly force or any other kind of power; my revolution is soft and curious, and sweet as an old-fashioned vanilla malted and a slice of creamy cheesecake with whipped cream; and in a jabberwocky universe, it's about empathy, compassion, and love—the ultimate inner space exploration.
But here, in the rational universe, I need the approval of the Committee (that's a bummer), and an experimental design (perhaps, you could help me work out the kinks).
And, if all goes well (and I drill a hole through the brick-red wall of resistance and cut the thick red tape), I will feast on infinite out-of-the-box ideas, high on knowledge; but if not, in a jabberwocky universe, I can pull it off, alone.
COMMENCEMENT DAY
by Dr. Mel Waldman
The end was the beginning, and it arrived in the summer of '65, for time is a cannibal that devoured Mother, a tiny woman clutching a small ration of life that remained in the quiet ruins of that seething apocalyptic day.
Her gold eyes perched on olive skin gazed at us as she lay in bed. She held a fake plastic cigarette in her minuscule hand, I imagine. Or was she caressing Father's trembling hands?
An oxygen tank stood tall on the night table, like a centurion guarding a moribund prisoner. Outside our home, a womb of death, Brooklyn overflowed with Eros, the life force.
We watched her gasp for air, black out, wake up, open her celestial eyes, and whisper, "I thought I was dying." And then she passed away, quietly, and forever.
In that cutting moment, I, too, crossed an invisible boundary, and began a long, unfathomable journey.
VANISHING MAN
by Dr. Mel Waldman
I watched the old man vanish, when he came to stay with me after his third wife kicked him out. He flew in from Florida.
Sometimes he disappeared in the middle of a conversation, or when he was mute and meandered around my small apartment, naked and confused.
On occasion, he lost control and suddenly, like a Hemingway bull, he looked ready to charge. But he didn't.
His dark brown eyes glared at me. He roared and shrieked and when his body shook, I hugged his fragile torso and whispered, "Dad, I love you."
The little man grew a big fat smile and proudly displayed his glittering gold tooth.
I remember our time together. He often vanished, but always reappeared, until he left for Florida, and his wife, and destiny.
She shipped him off to a nursing home where his merciless disease ate his mutilated brain. And when I spoke to him long distance, he whispered, "Yes, no, yes, no," until he vanished forever.
On empty nights, I sometimes gaze into my meandrous mind, a broken road with scattered potholes of forgetfulness, and mutter,
"Will I vanish too?"
AN UNHOLY VISION:
THE TRANSVERBERATION OF THE INVISIBLE MAN
By Dr. Mel Waldman
After midnight, the invisible man saunters along Ocean Parkway in sidereal time, the empty wasteland of his barren pitted face pointing upward, his dead eyes whirling around the Heavens & back to Earth, & drilling through the darkness as he slowly approaches Coney Island, a distant dream & a vanishing point in his moribund mind;
& when he arrives at the swirling center of the unholy night, he drifts toward the Coney Island Boardwalk & slithers beneath its low ceiling, lies in the seething swirling sand of the sultry August night, a sweet phantasmagoria, & falls into a deep abysmal sleep;
& suddenly, an unholy vision sweeps across his dissolving brain cells, & trapped in inner space, he witnesses the transverberation of the invisible man—the piercing stabbing death of his fragile diaphanous flesh;
& perched on the phantom stars of his multilayered nightmare, he shrieks hellfire as a frozen icicle burns & slashes his heart until he is still forever in an unfathomable landscape beyond Space & Time;
& tomorrow, after the tempest, his mutilated corpse lies buried in the deep snow of winter in the sweeping whiteness of Coney Island beneath the cold barren boardwalk for the invisible man has passed through the labyrinth of final dreams & discovered the soothing heat of summer in sweet phantasmagoria, an eerie place & last exit before a chilling unreality of unending stillness
LADY XES
by Dr. Mel Waldman
She struts across Mallory Square like a glamorous Hollywood movie star, a deliciously divine diva walking the red carpet.
Yet she does not wear high heels, no stilettos tonight, in Key West, no see-through gown, diaphanous and devastating, with long slits revealing lovely legs.
Her sensuous buttocks swing and sway and sashay in tight and torn blue jeans, and her tiny feet move inside soothing soft-blue slip-ons, Proenza Schouler espadrilles.
& now, in a low-cut red T-shirt that purrs, XES ROCKS, she enters the dock, mystical and magical, and watches weird performers, freaky and fantastic.
& all wandering eyes find her, for she is Lady XES, femme fatale of the 21st century, Lady XES from Planet XES-XESY, XESUAL, and mother XESer of the unfathomable universe, here on earth to be with us,
& vanish every night with the sinking red sun into the eerie sea and the distant horizon, dying in the Gulf of Mexico, resurrected in the darkness, and returning tomorrow, perhaps, to XES us for eternity
THE METAMORPHOSIS OF MY IMAGINARY COFFIN
by Dr. Mel Waldman
Come
with me
into my coffin,
my imaginary coffin,
a voice within a dream whispers,
then swirls into a sphere of turquoise light
&
vanishes.
&
after, I awaken,
inside a wooden coffin,
ensconced in a whirling dream, a frostbitten
dream of winter, within an ocean of dreams;
&
looking up,
at the cold wood covered with the flowing chill
of darkness, my frozen eyes observe the metamorphosis
of my imaginary coffin, nestled in a fierce phantasmagoria,
where I am empty inside this eerie emptiness, & still, like the
silenced dead;
&
through the blinding black hole I watch a frightening alchemy—
wooden coffin becoming gold & glowing in the House of Non-Existence,
then flowing into a turquoise light & vanishing, becoming raw dust, but resurrected
in the bowels of the earth, & soon, a nameless weapon of glory, drills through the foul
earth, rises furiously toward the snow-covered Heavens, explodes & obliterates the cosmos,
&
inside this supernatural coffin, my Post-Apocalyptic home,
I lie,
alone,
for eternity,
in a locked box,
nothing
above,
or
beyond,
only
the
monstrous
Void
A DEATH BEFORE DEATH
IN
THE DEEP SNOW OF ALZHEIMER'S
by Dr. Mel Waldman
My father passed through a black hole and disappeared. I waited for his return.
When the mind dies, it sleeps in a frozen coffin.
Buried in the deep snow, and tasting flakes of non-existence, as real as the wet, whirling beasts in his vanishing brain cells, he suffered a death before death.
Strangers gazed at him and saw a peek-a-boo man, clothed in a shroud of non-identity, a ghostly veil of human emptiness.
I saw a man named Father.
I watched him vanish into a shattered time capsule of random, remote yesterdays, swaddled in a strait jacket of unbearable restraint.
I witnessed his death before death.
When the mind dies, it hides in the deep snow.
He disappeared in front of me, his dark, vacant eyes far away, perched in nowhere.
My soul-severed eyes darted and flitted back and forth, between the mutilated spaces that connected us. I reached out to his moribund mind-spirit.
I could not save him.
When the mind dies, it dangles between nowhere and nowhere.
Before his final death, a private snowstorm swept mercilessly across the wasteland of his mind. The blizzard covered his battered brain, almost obliterated it.
Yet sometimes, he was reborn for a few seconds or minutes, resurrected by chance neural connections.
We'd say hello. Instinctively, he grew a big fat smile, revealing his precious gold teeth. His eyes were real until they became vacant again.
I discovered death in his dark brown eyes.
In his heyday, he was a fierce, ferocious man who did not know how to love or be loved. We raged against each other. But at the end of his fragile life, I loved him fully, forgave his flaws and sins, and forgave my own.
I witnessed his horrific death before death.
Strangers saw a peek-a-boo man. I saw a man called Father.
A DEATH IN OLD BROOKLYN
by Dr. Mel Waldman
Old Brooklyn is dead,
drifting
in
inner space,
lost
&
lingering
in
antediluvian
brain cells
&
dangling
between
shattered
synapses
too,
Old Brooklyn is dead,
&
I
mourn
for
the
soothing snow
of
my
mythological childhood,
a
celestial landscape
in
constant flux
&
recreation;
I
mourn
interminably
for
the
boy-dreamer
I
once
was,
covered
in
dead time
in
the
coffin of the past;
I
mourn
for
him
&
this
lost spirit-love
inside
me,
&
the
dream-shards
dangling
in
still life
&
the
scattered sparks
of
divinity
frozen
in
the
seething fires-
the porphyry
of
burning time,
&
merciful
angels
suspended
in
mid-air
before
the
unending
freedom journey;
&
I
mourn incessantly
for
eleemosynary
thoughts
merging
with
celestial visions
of
the
child;
Yes,
I
mourn
for
so much-
too much
of
my
life
used
&
spent
&
buried
in
the
death-box
behind
me,
a
tomb
of
everlasting vastness
&
longing,
the
transverberation
of
my
shrinking spirit;
I
mourn
unendurably,
&
sometimes,
after
a
preternatural sunset,
in
sidereal
time,
beneath
the
mystical stars,
I
gaze
backwards
into
the
reconstructed landscape
&
resurrect
the boy
&
the
soothing snow
&
my
mythic childhood
within
a
holy
ring
of
purple-red stones,
a
prophetic
porphyry
of
fugitive dreams,
&
a death in Old Brooklyn
rushing
away
from
me
in
frozen
time,
here
&
now,
everywhere
&
nowhere,
never
touching
tomorrow
BLESSINGS BEFORE THE APOCALYPSE
by Dr. Mel Waldman
The snow falls interminably.
"Come now with me, into the holy house. It is time to receive the blessings before the Apocalypse."
But the others rush off, vanishing in the rolling hills. & so, I enter, alone, and when the holy man speaks, his sweet voice is a zephyr brushing against my olive skin, and his words are a river of revelations, holy susurrations that flow into me and soothe my shattered spirit, a kaleidoscope of crippled butterflies.
"Welcome, fellow travelers of the unfathomable universe, and bless you."
He speaks to a chimerical throng of believers, for I am alone, with him, and a sphere of holy light encircles me.
"After life flows into death . . . and death feeds the earth . . . beyond the ruins . . . is the ferocious mystery . . . the ineffable miracle of resurrection and . . ."
My gold eyes rush to the mammoth window to my left, swallow the deep snow that covers the moribund earth and I say goodbye to my life and all that I have loved and the world outside. It is time to pray and hide beneath the canopy of the prophet's visions.
Ensconced in the vastness of his words, and this holy place & time, nestled in a cocoon of revelations & silence, I close my eyes and wait for the Apocalypse, and after, a swarm of monarchs and mourning cloaks may rise from the ruins and soar, or perhaps, nothing, not even traces of our dreams, shall exist to reveal who and what we were or why we did not hear or heed, in time, the deafening words of the prophecy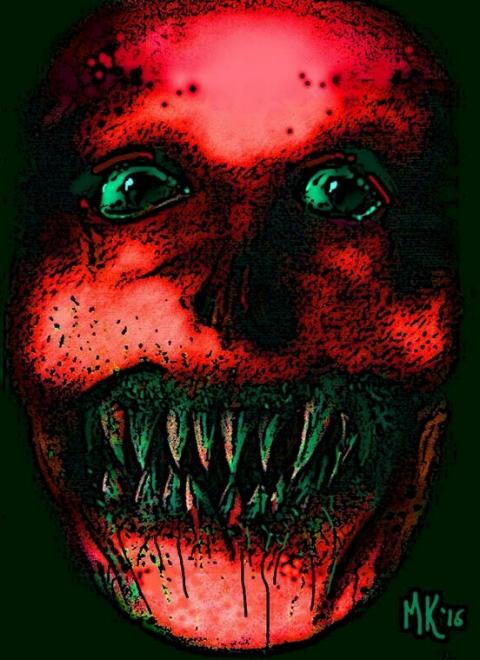 Art by Mike Kerins © 2016
CRIMSON FACE
Dr. Mel Waldman
Look closely at my sweet-smelling face. Come close now. Stop! And smell the roses.
What cologne am I wearing? Can you guess? I am the Garden of Eden. Take a deep breath and inhale the seductive scent I wear. Does it belong to Adam, Eve, or the snake? Is it Eternity, or Eros, or the foul suffocative smell of Thanatos?
Come close now. Beneath the sundry masks I wear, do you see the real me?
Touch my face—the soft, smooth skin. Remove my masks. Peel them off, if you dare, and discover the crimson face—the bloody cauldron of rage.
Now, do you know who I am? Or are you confused by my disarming smile, my gentle demeanor, and my melodious voice?
Come closer into my arms, look up—into my cannibalistic eyes and see who I really am and let your mind and heart dissolve in a long eternal kiss while the killer inside me, the beast with the crimson face, caresses and strangles you to death.
MY POEM,
MY PRAYER
By Dr. Mel Waldman
(on reading Jack Kerouac's poem-Hymn)
After dark,
in the deep of the night
I
drink the stars outside my Brooklyn home
&
gazing upward at the glorious unfathomable creations,
I
turn inward,
look into the mirror of my meandering mind
&
rushing slowly
into inner space,
I
pray to our unknowable Source,
bathe
in the beautiful darkness & the omniscient silence,
enter
the Oneness,
&
I pray until my prayer blesses me with creation
&
a turquoise butterfly appears & swirls around my brainwaves
&
in a poignant moment, perhaps, in the everflowing circle of the night
or
in the deep silence of the dawn, when crepuscular insects awaken with me,
I
write my poem, my prayer
&
on the blank page of metaphysical creation, in my minuscule blank book,
I
scribble my holy creation—my hymn to Brooklyn & to the majestic universe
of
celestial conundrums that surround it
&
my words weep the sadness & joy of prayer
&
sing a cornucopia of sweeping emotions
in
the vastness where I shed the skin of loss
as
I create
&
remember the Coney Island of my youth,
the whirling wonderland by the sea,
where we gathered—
&
Mother, Father, Sister, & I
devoured
Nathan's frankfurters & French fries & the soothing innocence of our time
&
we believed in something beautiful transcendent & real
as
lovely as this poem, this prayer
&
as real as the invisible landscape of boundless love
where
Mother& Father live now ensconced in my beauty
in
the mansion of my mind on the Coney Island pier of Yesterday,
gazing
at the rolling waves of the Atlantic Ocean & the swirling rhapsody
of
the Coney Island rides,
&
smiling majestically at me in their Seats to Heaven
while
I stroll along the wooden Boardwalk & sing songs of love
&
scribble words of glory in the deep silence of creation
until
my poem, my prayer comes forth,
out
of nothingness,
the omnipotent music
of
the Source
SILENCE,
DEEP SILENCE
by Dr. Mel Waldman
(on reading Stefan Brecht's poem "Silence")
Silence,
deep silence
inside
the swirl
&
falling into a fallen divinity
&
the stone speaks silence
&
I listen
&
drift into visions of
an old man with a Charlie Chaplin moustache
dives into the river of silence
caresses
a little lady glowing with the opalescent light of love
&
lovelier than Greta Garbo
&
I weep silence
swallow
phantom voices
Mother's
otherworldly whispers celestial softness brushing against my olive skin
&
Father's
ferocious gorgeous grin gold tooth glittering after dark
rushes across the ruins of silence reaches me growls love
&
gallops off through inner space
AWAY FAR AWAY
&
I drink the river of despair
&
drown in the deep silence of the apocalypse
&
vanish in the mournful flood of loss
as
I kiss & taste the succulent lips of silence
&
long for redemption,
perhaps,
the Queen of Rebirth,
a fallen divinity
asleep in the vastness where the stone speaks silence
waiting
for me to awaken her
waiting
for us to save each other
in
the deep silence
THE SUDDEN DEATH
OF
MY UNKNOWABLE FATHER
LONG AGO
IN
LOST TIME,
A
STRANGER
IN
THE HOUSE OF MY SOUL
by Dr. Mel Waldman
(on reading Joanne Kyger's poem "My Father Died This Spring")
Long ago,
inside the labyrinth of lost time, my unknowable father, a faraway man, distant in life
&
shrouded in secrets, died suddenly in a Florida nursing home, a ghost of a vanishing man,
shriveled up & emptied of thought, gazing mindlessly at a moribund TV & a soporific soap opera in the sultry dayroom decades ago, his dark brown eyes fixed on random
images
floating in raw nothingness on a Spring day
until
the old phantom, having suffered the 1st Death of No-Mind, brainwaves dissolving
inside
the wasteland of the Deep Snow,
slumped over in his rickety chair & slipped off into the otherworldly Void that swallows all life-the nowhere-hole of oblivion for those forever bereft of the cosmic breath of life
&
banished from earth & our human flow—the furious beautiful rivers & oceans of Eros.
Looking back
through a swirling oval darkness, my weary eyes locked shut,
I
sit within a circle of silence & plummet into my private space & a mournful past;
but
soon, I hear the cutting voice of an interloper, the hallucinatory soliloquy of the Beat Poet
Joanne Kyger
slicing the seething silence, speaking of her dead father,
confessing,
"You can't say he wasn't strange and difficult."
I
listen to her poignant words again & again, orange-red flames of mournful music that fill
my emptiness until her haunting voice melts in the merciless fire, becoming a murmur-whisper-susurration, & vanishing in the abyss.
After,
I am alone, once more—terribly alone.
Father,
my unknowable father, you've passed through the sacred wormhole into the beyond
&
the lost landscape of eternity.
Now,
tell me who you are & I shall discover who I am.
Father,
you are a stranger in the House of My Soul. Yet I welcome you in. Come now, come into
my home. Father, my unknowable father, you are undecipherable & unfathomable like the universe & the Source of all life. I am too. So come now, from far away, come into
my home, & let us search together for our truth & let us love
Art by Ann Marie Rhiel © 2017
A
BEAUTIFUL CHAOS
by Dr. Mel Waldman
Follow me
into a beautiful chaos
in
the flowing rear space
lit up
with the fire of efflorescence.
Follow me.
&
the clock explodes
within
the whirling yellow-orange labyrinth of unreality
&
still Rabbi Silverman teaches Torah at a corner table.
Nearby,
I read Yehoshua November's poem "Prayer"
&
my phantom soul flows up & down the Tree of Life
&
glows with otherworldly phosphorescence
&
a few feet away,
Mike,
my funny Egyptian Muslim friend,
unleashes
the swirling music of Saturday Night Fever on his smart cell phone
&
he & the old timers of Dunkin' Donuts dance with John Travolta & Karen Lynn Gorney
&
we caress the past with the Bee Gees & Tavares,
free
in our little Tower of Babel
for
this is our world
beyond
Heaven & Hell
different voices & tongues
coalescing
in
the blessing of one
PHANTOM VOICES
FLOATING
ABOVE
BROOKLYN
SING
REVELATIONS
OF
THE DEAD
by Dr. Mel Waldman
(on reading D. Nurkse's poem-The Dead Reveal Secrets of Brooklyn)
Phantom voices
floating above Brooklyn
wafting
to earth
&
resting secretly on the old roof
of
James Madison High
invisibly
swirling & whirling beyond time,
&
perched on Pandora's Box in a preternatural meditation,
phantom voices
sing revelations of the dead.
&
Mr. B
sails
across Brooklyn on his 1955 Vincent Black Prince,
majestic motorcycle
flying high from Coney Island to Midwood northbound on Ocean Parkway
&
turning east on Kings Highway & south on Bedford Avenue
sweeping
through the unreality of sweet phantasmagoria within my whirling dreamscape
my private divinity
&
Mr. B
returns to James Madison High
&
I-to Yesterday-wearing the ethereal shroud of euphoria/dysphoria
circa 1958
rushing to his English class &The Poetry & Philosophy Club
&
I kiss Destiny, the strange seductive flower growing in the Garden of the Past,
I
return to You & caress my ferocious flower within my Dream-Mind
&
what shall I find when You awaken within my dream?
With
Your rebirth, what shall I find?
&
ghostly voices, light & mellifluous as the susurrations of zephyrs & opalescent angels,
whisper,
The dead never die.
&
an invisible orchestra plays Gershwin's Rhapsody in Blue
&
phantom voices sing
&
phantom voices sing
&
phantom voices sing revelations of the dead
&
death is the boy falling into the deep snow of mourning
in
the very hot summer of despair as sweat falls from his (my) brow
&
He . . . floats with phantom voices
&
I taste the eerie emptiness of mother's lost lacerated voice
She lies beside her otherworldly oxygen tank, rises suddenly, & shrieks,
"I thought I was dying,"
&
dies,
blasting off
into the unfathomable black hole of everlasting stillness.
as
I plummet through the trapdoor of my electrocuted brain
&
I die too.
&
Dr. Z,
my high school Hebrew teacher,
frees me, asks the dream-boy at James Madison High to read again from Isaiah 2:3-4.
Why?
Why do I pass through this supernatural door?
Now, the boy sings poetic words, sings revelations of the dead,
". . . and they shall beat their swords into plowshares and their spears into pruning hooks."
Then suddenly, Dr. Z & dream-boy vanish,
&
within
the harrowing hour, in a mournful, mutilated room of black flowers,
one unfathomable day,
I hear,
Young X, honor student, member of the rifle club, has taken his life!
I hear,
as C, the robotic school official, tells us—the senior class—this soul-cutting truth,
&
rushes off while we meditate on death.
&
phantom voices sing,
. . . the evanescence of death is everlasting . . .
&
. . . everlasting is the obscene evanescence . . .
&
K,
the young Kafka of James Madison High,
asks,
Why?
&
I die while phantom voices floating above Brooklyn sing revelations of the dead
&
within the swirling dream-flower of my life
I
die too forever,
again & again
I
die
Art by Elise Daher © 2018
CONUNDRUM STREET.
by Dr. Mel Waldman
(on reading Lawrence Ferlinghetti's poem "The Long Street")
On
Conundrum Street
I
follow a throng
of
haunted humans
&
a cornucopia of creatures
to
Coney Island
to
taste the cool metaphysical air
&
inhale the raw wisdom
of
the burning sand & the bestial ocean
&
ride on the cosmic Cyclone again
&
the otherworldly Wonder Wheel
&
whirling around a chimerical omphalos
I
look up at the Parachute Jump
our
antediluvian landmark
&
mourn for the old & weary & obsolete
&
the dead & the lost & the living dead
until
I saunter off
in
a trancelike state
to
Nathan's
to
devour
sizzling
hot dogs supreme
&
crackling crunchy
French
fries majestic
&
soon, oblivious of who I am
&
where I'm going I rush slowly
across
Conundrum Street
the
unfathomable street
that
swirls around the world
&
pirouettes across the universe
&
mindlessly I go on my magical journey
&
meander through Brooklyn
orphan
cockroaches & odd creatures by my side
&
weird humans
with
vacant eyes still in the wilderness
&
wild anorexic beings
with
turquoise auras & telepathic powers
&
peripatetic phantoms too
join
me
&
mindlessly I go on my odyssey
through
Brighton & Manhattan Beach
&
Sheepshead Bay & Midwood
&
all the neighborhoods I know
&
all the ones still undiscovered
&
along the way
I
find myself in Lily Pond
at
Brooklyn College
until
I wander off to Brooklyn Heights
&
stroll along the Promenade
&
gaze at the Twin Towers
no
longer there
&
so it goes
on
Conundrum Street
I
time travel too
return
to the Garment Center
sit
with Father
hard
working dress salesman
in
Horn & Hardart
&
listen to the little man's voice
&
the vastness of his dreams
&
look dreamily into his dark brown eyes
perched
on his Austrian horse-scarred face
adorned
with a Lilliputian equine bite
cascading
down one cheek
above
a thin black moustache
&
a glittering gold tooth
majestically
revealed
protruding
with a wide wicked smile
&
childlike joy
&
I see my Father-God
&
his bestial beauty
unalloyed
ecstasy
but
how odd that we-
are
oblivious of our mortality
&
harrowing destiny
&
fast-forward a few decades
&
recall the death of Father's mind & memory
the
insidious death before death
slithering
in the remains of a broken brain
the
snake that eats the past
devours
synapses
severs
the self
on
Conundrum Street
that
swirls around the world
&
pirouettes across the universe
merges
time
caresses
yesterday
swallows
now
&
tastes tomorrow
a
street that never ends
even
when it comes to a cul-de-sac
&
bathes in frozen stillness
the
peculiar blessing of non-being
it
follows phantoms
through
the House of the Dead
to
the other side of Conundrum Street
&
beyond
Art by Elise Daher © 2018
Art by Ann Marie Rhiel © 2018
UNFATHOMABLE RHAPSODY
OF
PSYCHOSIS
by Dr. Mel Waldman
Unfathomable Rhapsody
beautiful
&
grotesque
rushes
eerily through crackling exploding brain cells
&
the other hears hallucinatory music
the
harrowing & haunting Music of Un-Reality
&
phantom voices riding oceanic waves
flood
the wounded self
drowning
in the dreamscape
&
the unfathomable rhapsody rushes through the apparitional universe.
The other
drinks the overflowing ocean of psychosis
swallows
a cornucopia of madness
&
OD's on otherworldly sensory overload
but
awakens & dances deliriously to the spectral music of trauma.
"Psychosis
is a blessing," a phantasmal voice whispers.
"Or is it
a bestial blizzard of unbearable revelations,
a strange rhapsody
or fantastic requiem for the living dead?"
A ghostly chorus shrieks, "Salvation or sudden death?"
Art by Shiela McGuckin © 2019
HOUSE
OF
UN-REALITY
by Dr. Mel Waldman
(on reading Tomas Tranströmer's poem "The Blue House")
On
trauma-filled days
I
return to the vanishing house of my youth
the
House of Un-Reality
in
Old Brooklyn
on
East 7th Street
around
the corner from Ocean Parkway
a
phantom flowing vastness
galloping
to the lost time of Coney & beyond
Avenue Yesterday
&
Highway
to nowhere
for
even the Coney Island of the boy
exists
now only in a spiraling dream
a
distant vision
a
phantasmagoria
from
far away
rushing
&
cascading
down Chimerical Falls
into
an ocean of electrical synaptic chaos
&
still I return to Old Brooklyn
hunched
over in Trauma Time
across
the street from the house I once lived in
&
I gaze wistfully at my House of Un-Reality
lost
in blossoming waves of longing & melancholy
swept
away in a swirl of iridescence
dancing
butterfly wings
&
shimmering peacock feathers
&
glittering sea shells
pirouetting
across a mythical seascape—
a
flood of nostalgia & fluid memories
&
magically with the X-ray vision of Superman
my
gold eyes puncture the past
see
through the brick façade
&
look inward
where
the phantom boy
gallops
around a child's little universe
wearing
a Hopalong Cassidy crown-shaped black cowboy hat
the
Champie
&
a Hoppy double-holster with gold revolvers & black grips
for
Hoppy's a child's hero
in
the now of yesterday's dream
a
beautiful blossoming
flowing
symbol of good in all black
pristine
& sinless man of morality
fights
evil with gallantry
captures
villains & foe
Hoppy's
a child's hero
mounted
on Topper
his
white horse
in
a dream
in
the House of Un-Reality
&
the boy's oblivious
of
real gunfire
happy
in play
galloping
around yesterday
&
soon
when
the boy inhales the fire of Father's fury
he'll
become Hoppy again
&
be free
Hoppy, Hoppy, Hoppy, Hopalong Cassidy
Art by Darren Blanch © 2019
THE GHOSTS
OF
BORGES
&
OTHERS
RUSHING SLOWLY
&
RISING
THROUGH
THE UNDERGROUND LABYRINTH
OF
THE HOUSE OF UN-REALITY
By Dr. Mel Waldman
(on reading Tomas Tranströmer's poem "The Bookcase")
I
am not alone
in
this alone-ness place
here
in the nowhere of nowhere
in
the House of Un-Reality
I
am not alone
Gold
eyes gaze into the tomb of trauma in the swirling Room of Infinity
the
eerie omphalos
&
phantom center of ghosts
a
barren cornucopia
&
dystopia of emptiness
&
the human-less vastness
&
the wild waves of snow for miles & miles
&
the blessings of oblivion
ineffable
vision
overflowing
in the blind man's blizzard
the
ghost of Borges in the House of Un-Reality
Above,
old objects possess preternatural power
in
the unspeakable hour of revelations
mundane
objects in metamorphosis
approaching
transcendence & illumination—
mutilated
antiques
convex
& concave mirrors
&
swinging doors through a wormhole into the soul
&
metaphysical paintings singing of non-being
&
Bizarro portraits of the dead
&
wounded walls & harrowing halls
&
torn books read long ago
adorned
with ashes & dust
ruins
& rust
&
moribund bookcases with broken shelves & splintered wood & lost selves
&
obsolete manuscripts
&
esoteric notes on Post-its about the nature of the universe & the Apocalypse
Below,
the ghosts of Borges & others
rush
slowly & rise through the underground labyrinth
while
metaphysical notes pirouette across non-being
unfathomable
sound from the underground
&
a ghost rhapsody
&
in a transcendental chasm of time
a
schism in space
a
pause in Un-Reality
carved
with the celestial hand of Dali
&
the fabulous words of Borges
this
is the blessing & despair
while
the mystical clock chimes nowhere
&
after the Apocalypse
this
is the trauma & the ecstasy
while
the deathless clock chimes divinity
&
the ghosts gaze into the quantum universe
in
search of Schrödinger's cat & revelations
before
rising again in the ineffable hour of illuminations
for
a rendezvous with old objects in metamorphosis—
the
keepers of history
&
the secret Labyrinth of Infinity & the boundless Mirror of Anguish & Bliss
Art by Ann Marie Rhiel © 2019
I
AM
BORGES
TRAPPED
IN
THE OVAL MIRROR
OF
BLACKNESS
by Dr. Mel Waldman
I
am Borges
trapped in the oval mirror of blackness gushing darkness in a barren universe of non-being bereft of the blessings of light a spectral dot in a vacant galaxy whirling around the rim of a wounded dream dead eyes looking out & cutting through the shroud of the everlasting night & tasting broken glass & the swirl of a dust devil & eating celestial visions
I
am Borges
diving into the deep of phantasmagoria a magic lantern on fire exploding with chimerical light & unreality
I
am Borges
blessing you with the metaphysical flow of divinity the metamorphosis & miracle of sacred words illuminating the unfathomable universe
Art by Ann Marie Rhiel © 2019
I
AM
HESSE
by Dr. Mel Waldman
I
am Hesse
soul-hunter
a stranger in the forbidden kingdom of Shadows lost in the bestial landscape I cross in the celestial light & the oval darkness the eerie swirls of night in search of my fugitive self
Unblessed & trapped in my antediluvian House of Duality I dangle in inner space between the divine & demonic like my Steppenwolf half-man & half-wolf
In the deep of despair, I descend into the Shadows & swallow the flood of darkness overflowing with loss & death & drink & drown in self-pity in mourner's unreality
After Mother's death & my absence from her funeral I eat everlasting emptiness & time is a mustang galloping across phantasmagoria & unholy years vanish until I taste the fire of foul Truths—Father's death my distant Johannes & my youngest son's terrible illness my precious Martin & my wife's voyage into madness poor Mia's schizophrenia—& plummet into oblivion
I
am Hesse
intoxicated & vanishing in the kingdom of sin a sensuous stranger commanding me to be you within the bestial bars & lurid dance halls of Zurich for I am my creation Steppenwolf too
Now I enter therapy with Dr. Lang & float in the sea of Jungian archetypes & see for the very first time through the preternatural window of perception for this is my crisis & psychoanalysis is my labyrinthine exit out of melancholy & the abyss
& when the merciless hour of anguish returns I meet with Dr. Jung in search of self & spirituality & my psychoanalysis is a holy metamorphosis & catharsis for from the throes of depression comes healing & integration & the transcendent oneness of a thousand selves
I
am Hesse
the soul-hunter
floating in the sea of Jungian archetypes luminous images rushing through the psyche & a cornucopia of revelations from the collective unconscious Persona, Shadow, Anima/Animus, & Self & . . . now I unmask my social faces & gaze into the maw of darkness & see the eerie female in me in syzygy & the oneness of self the oneness of who I am
Art by Ann Marie Rhiel © 2019
I
AM
CAMUS
by Dr. Mel Waldman
Born
in the bestial abyss of poverty
I
am Camus
child-man of the sun & sea tasting the African sun the sprawling canopy of fire above & the Mediterranean Sea that bathes my flesh & feeds my unfathomable being in the blazing universe
&
I am Camus
fatherless
in a foreign universe
Father—
Lucien Auguste Camus—I did not know you killed in WWI I was less than one bereft & left with Mother & older brother & a chilling anecdote that burned the ferocious truth into my brainwaves the barren revelation that once you witnessed a public execution & got deathly ill from this obliteration & this visceral micro-story filled my emptiness & an un-blessing entered my mind & body became part of me imprinted in the invisible universe within & so I wrote & wrote & wrote transforming pain into words for this is my metamorphosis & yes this is my being & evolution as a writer
Mother—
Catherine Helene (Sintes) Camus—you were deaf & illiterate & after Father's death we moved to Algiers & lived with your family condemned confined incarcerated in a claustrophobic prison cell of poverty a raw merciless flood mind drowning in the ruinous downpour of reality
I
am Camus
child-man
of the sun & sea intoxicated with the sensuous universe cosmos of splendor cornucopia of gorgeous glorious galaxies the sensuous universe the African sun
nature's
grandeur everlasting & the everflowing panorama is a rhapsody the music of the desert & the mountain the sky & sea
&
the strange beautiful bestial paradox of paradise & poverty side by side
&
man is alone in this grand universe
I
am alone
tasting
& swallowing the chilling fire of cosmic indifference no God no transcendence only the furious waves of human existence in an ocean of absurdity Heaven & Hell here & now in the African sun & the Mediterranean Sea
&
I am Camus
&
like Mersault, my fictional creation, I too am a stranger drifting along a seething beach swallowing the African sun & nature's majesty & drinking the opalescence luminescence of the meaningless universe & its monstrous beauty
&
eating my aloneness isolation & merciless mortality in the maw of death my everlasting ebony hole of nothingness the abyss of my nonbeing in the overflowing cosmos oblivious of me child-man of the sun & sea
Fatherless
in a foreign universe
I
am the isolated man forever the stranger & the outsider observing the inside world & gazing inward
swallowing
the Sisyphean struggle of my being quietly singing the song of the rebel solitary man ferocious sensualist natural man lover of nature for the sensuous universe is all—it is Father & Mother & I am the other & its
lover
I
am Camus
Father
of Catherine & Jean the twins
call
me loving soothing Papa & we play soccer & I laugh uproariously child-man of the sun & sea
&
I am Camus
lover
of women 2 wives & sundry mistresses
Yet
with Simone my 1st wife
I
<